Chapter 7


THE GREAT MASTER HUMBERTO "TURRÓN" ALVAREZ
As president of Difutbol, ​​I politely asked
Dr. Gabriel Ochoa Uribe
, a great connoisseur of world football and even more so, of the Colombian, to give us a conference on football for a technical course in the city of Medellín; very kindly accepted.
I went, in the company of Ramiro Monsalve to meet him at the Rionegro airport and we quickly started talking about football. I asked him: Dr. of all the Colombian footballers, which one has been the best? Without hesitation, he answered me: "Turrón Álvarez, he was an outstanding footballer; 
"Turrón Álvarez, he was the highest; out of the group."
In a chronicle by Dn Carlos Serna (q.e.p.d.) he places him on a pedestal, comparing him with the great figures that he had to see; in El Colombiano, after the famous 7-2 on Saturday night, they insinuate: "as if to make him a monument"; Hernán Peláez, in one of his books, says that he was born out of time and Fernando Paternoster said that if he had what, he would buy it to watch him play in the courtyard of his house. Rodrigo Fonnegra said that he disarmed a defense with a single glance and Mario Agudelo was his great admirer.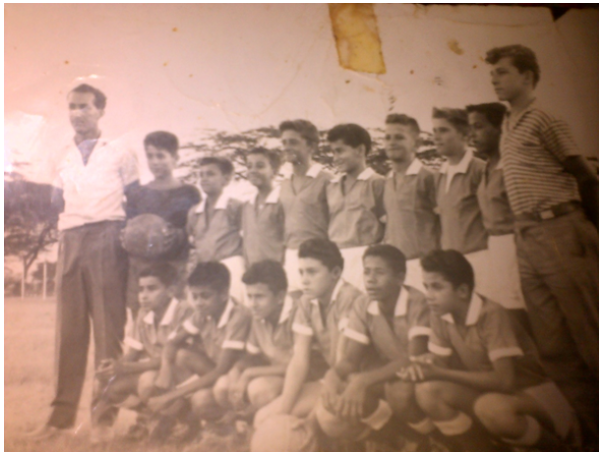 Independiente nacional (natillera)                                                          Millonarios (children)


Gabriel Muñoz López, the famous announcer of the tie with Russia in Chile, was asked the best player you saw in the stadiums of Colombia?
"For me - and I remember him very much because he is very ill - Humberto" Turrón "Álvarez. He never left Medellín even with offers from Millonarios, Cali and several international teams. Millos insisted and could not bring him to Bogotá. Only on loan ".
The historian, Guillermo Ruiz defines him as: "Intelligent to show himself to his teammates, skillful and resourceful when it comes to dribbling, talented, creative and with a great panorama to pass the ball to the best-placed: a crack.
And although he knows that no one lives from glory, he is moved to remember the time that Alfredo Di Stéfano said, in Europe, that "in Colombia, there was one better than him and his name was Turrón." The same one who played in Nacional e
Independiente Medellín
, the two traditional teams from Antioquia, and the one that was in the plans of Italian, Spanish, and Brazilian soccer.
The professionals of the time have him as their banner and a great figure of Colombia; without complexes, with a lot of quality, handling of both legs; good header; great ball control; winning temperament and mentality; strong and skilled; He easily changed from short to the long game, with an elegance that was very "his" and above all, he assumed leadership on the court and off it.
I had the fortune to start playing under his direction in the Millionaires of the children's category, sponsored by the capital club led by Dr. Ochoa, and then he took me to Vicuña-DIM until I reached the reserves of the professional team and played a Dimayor tournament, learning to know and understand it. Bad temper yes, but what quality of person!
Believer and respectful of God; he taught with joy; broad, clear, concrete, direct, haughty, impeccable presentation, strict, compliant, good friend and advisor. Many of those things I learned from the great teacher.
Having already retired from soccer and with an injured knee, he played with us in training sessions and was "overflowing", with only one leg. What a figure!